Janes Island Kayak Training Trip
at Jane's Island State Park
(Please, let us know if you're interested)
Join us on the Chesapeake Bay for an intensive weekend of skill development and an opportunity to apply those skills to a "real life" situation - a circumnavigation of Janes Island State Park. Kayaktraining.com is offering this course for those who are ready to take the next step beyond basic kayak training. We'll work with you in small groups to help you develop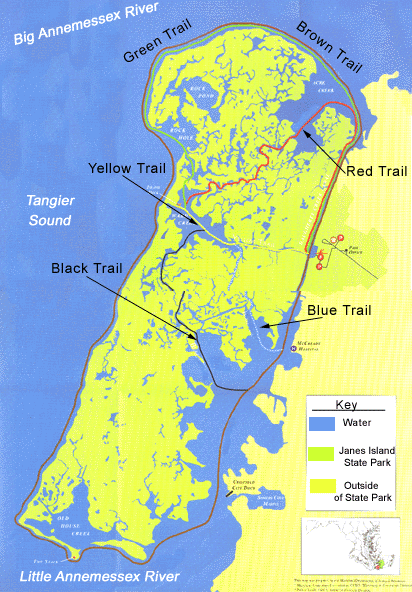 or refine your intermediate-level skills; help you understand how to integrate your new skills into sea kayak touring trips; and do it all in the magical setting of Janes Island State Park on Maryland's Eastern shore.
You can optionally arrive Friday afternoon or evening and settle into a campsite or our cabin. This is the best way to ensure you will be ready for an early morning start on Saturday.
Saturday is devoted to a full day of instruction on advanced strokes and techniques. As we travel the protected water trails, we'll test and refine our newly learned maneuvering strokes – like a bow rudder or hanging draw. We will help you expand your repertoire of skills to include J-leans, support and bracing strokes, as well as sculling techniques. And, because safety is a critical component of skill development, we'll spend time perfecting various self- and assisted rescue strategies. The learning and fun continue into Saturday night, when we will review some of the weather-related and navigational issues connected with the next days' circumnavigation.
Sunday morning, after a last minute check on weather conditions, we'll set off for our 13 mile trip around the island. (For those who prefer to do something shorter, there will also be a 6-7 mile trip). As we head out onto the Bay itself, we'll have plenty of time and opportunity to apply our skills, learn new ones (like Eskimo rescues), and just relax on some of the island's great beaches. If you want to take your paddling to the next level, this is an opportunity you won't want to miss!
Your Kayak training guides are all ACA Instructors, seasoned paddlers (with a combined 38 years of sea kayaking experience), and have a passion for helping others learn how to safely paddle the open waters of the Bay. During the past four years, we have trained over 1,000 people from the Baltimore, Annapolis, and Washington, DC areas.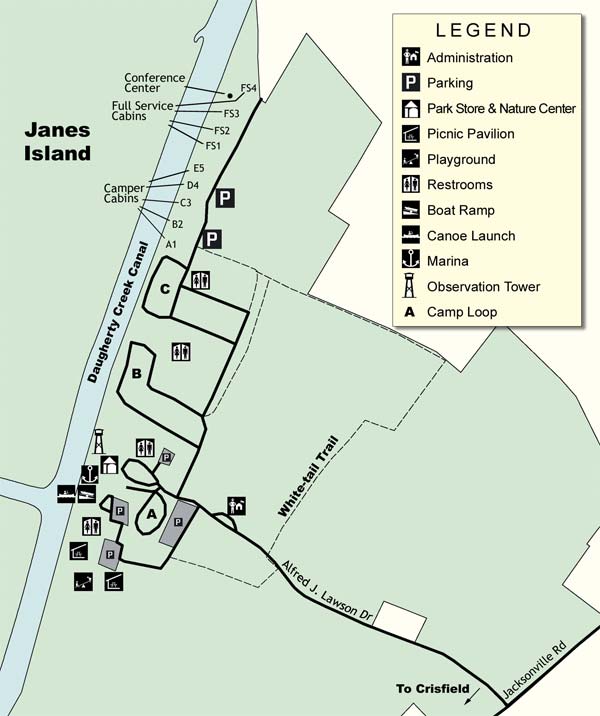 Where: Janes Island State Park, 3 miles north of Crisfield, MD; about 3.5 hours from Baltimore and Washington, D.C.
(410) 968-1565
26280 Alfred J Lawson Dr
Crisfield, MD 21817
Click Link for Directions: How to get there?
Costs: $195 covers all instruction. Kayak and equipment rentals are available for just an additional $50. Campsites at Janes Island are about $25/night and accommodate 2 tents.
Reservations: Reserve early as space is limited! Please note: Although unlikely, should the kayak event be cancelled you may still be obligated to your campsite / motel reservation.
Call 1-888-432-CAMP(2267) or make your Camping Reservations online.
For Kayak Training reservations use the Request Form at the bottom of this page.
Or if you prefer not to rough it then make a nearby Motel Reservation
Group size: maximum of 12; instructor/student ratio is 1: 4
Facilities:
Camping - There are 104 campsites and each has a picnic table and a fire ring. Sites can accommodate tent or vehicle campers. Five camper cabins are also available.
Picnicking - A picnic area of 25 tables and grills is available. There are also two picnic pavilions that can be reserved.
Cabins - Four modern log cabins, each with a maximum capacity of six persons, are available all year. Cabins must be reserved in advance.
Boating - There is a boat ramp as well as 25 boat slips available to campers for a minimal fee. Canoes and kayaks are available for rent.
For additional information, please email us at the address below

info at KayakTraining.com
---